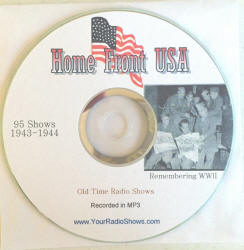 Remembering WWII

95 shows on 1 CD - 1943-1944

Enjoy this classic compilation from YourRadioShows!



Big Band Swing Music, Novelty Songs, War Promos, Original Commercials, Bob Hope sings closing songs "Thanks For The Memories, Pearl Harbor News Flash, Buy Stamps and Bonds, Churchill Finest Moments, Truman Victory Clip, Join the WACS and MORE!

Original announcements for Food and Sugar Rationing, Navy Salute Promo, Army, Lucky Strike, Texaco, Kraft, Memphis Bell, Al Jolson, Jimmy Durante.

World War II Memorabilia Collectors Dream!
___________________




___________________

Public Domain.
Label exclusively designed for YourRadioShows.
Compilation by YourRadioShows.

This CD is in the MP3 format.
All CD's are mailed in a paper-sleeve, unless otherwise stated.

Proudly Made In The USA

Please remember some shows are 80 years old and in their original state. Please email if you have a question!