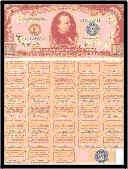 Join the United States Treasury Department as they raise money for war bonds. Your favorite Old Time Radio celebrities will entertain you as they star in this Patriotic CD. Vincent Price, Lionel Barrymore, John Garfield, Lynn Fontanne join a cast of many other great Hollywood screen, radio and stage actors.

1 CD with 88 shows from 1942-1944. Patriotic/Drama.
This CD is in the MP3 format.