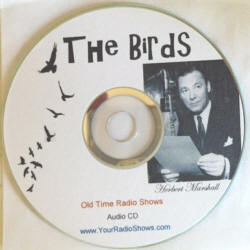 1 audio CD - 1953 - Dama/Suspense

"The Birds".... A classic tale of terror, every bit as good as the Hitchcock movie. AFRS program name: "Hollywood Radio Theatre." Lux presents their version of Daphne Du Maurier's startling story The Birds starring Mr. Herbert Marshall in the lead role as John Waite.



John Waite has written a story as a record of what happened that time on the English coast when his family and the whole country were attacked by normally peace loving birds. The brilliant sound effects and music manage to build up the tension and extreme feeling of claustrophobia with great affect. Source courtesy of Wikipedia



These Old Time Radio Show live broadcasts will entertain you for hours! Make these radio show collections apart of your families traditions!




_________________________
Public Domain.
Label exclusively designed for YourRadioShows.
Compilation by YourRadioShows.
This collection is in a sealed case.
These CDs are in the AUDIO format.
Proudly Made In The USA
Please remember some shows are 80 years old and in their original state. Please email if you have a question!