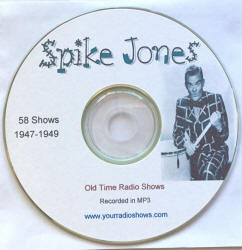 58 shows on 1 CD - 1947-1949 - Music - Variety

Join Spike Jones and his City Slickers American musicians and bandleader specializing in satirical arrangements of popular songs. Ballads and classical works receiving the Jones treatment were punctuated with gunshots, whistles, cowbells and outlandish vocals. From the early 1940s to the mid-1950s, Jones and his band recorded under the title, "Spike Jones and his City Slickers". You wont want to miss out on this radio classic...your favorite comedians, musicians singers from the great radio days! Join special guest like Frank Sinatra, MelTorme, Buddy Clark, Eddy Arnold, Peter Lorre, Boris Karloff and many more!


___________________




___________________

Public Domain.
Label exclusively designed for YourRadioShows.
Compilation by YourRadioShows.

This CD is in the MP3 format.
All CD's are mailed in a paper-sleeve, unless otherwise stated.

Proudly Made In The USA

Please remember some shows are 80 years old and in their original state. Please email if you have a question!