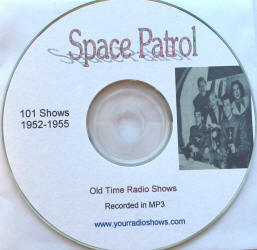 101 Shows on 1 CD - 1952-1955

-

Sci-Fi

The radio version ran from 4 October 1952 to 19 March 1955, for 129 episodes. The same cast performed on both shows. The writers, scripts, and directors were reused between the radio and TV incarnations, but the radio broadcasts were not limited by studio sets and became more expansive in scope than the television programs.Although there was seldom any deliberate crossing-over of story-lines, some of the television villains regularly appeared on the radio (notably Prince Bacarratti), and during the "Planet X" story, both the TV and radio versions explored the rogue planet's invasion of the Space Patrol universe.

While the radio series lacked the sophistication of Science Fiction shows like the later X Minus One, it was enjoyed as a throwback to the Golden Age of space opera popularized in the 1930s by pioneering magazine.

Info source: Wikipedia
___________________



___________________

Public Domain.
Label exclusively designed for YourRadioShows.
Compilation by YourRadioShows.

This CD is in the MP3 format.
All CD's are mailed in a paper-sleeve, unless otherwise stated.

Proudly Made In The USA

Please remember some shows are 80 years old and in their original state. Please email if you have a question!