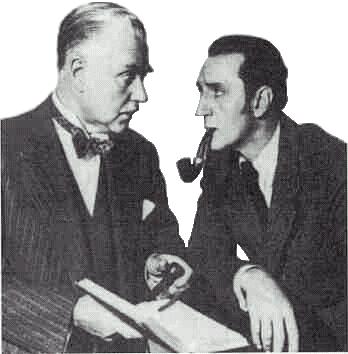 Rathbone and Bruce

Sherlock Holmes episodes on radio are often dismissed, as are the many films. Yet for his fans and all lovers of mystery, the swirling London fogs, murder most foul, odd villains and an upper class becoming modern as London's denizens struggle in pitiful poverty means "the game is afoot!" Holmes actually has a long and wonderful history on the radio.
For American radio, the heroine of Holmes on the radio was Edith Meiser, an actress who loved the stories and was convinced they would make great listening. She scripted several Conan Doyle stories and took them around. NBC liked them, but had no sponsor ready. Meiser Shopped for a sponsor for the show herself, and went back to the network triumphantly. Beginning in the early 1930's, she single-handed wrote the show for over a dozen years, first working from the Conan Doyle canon, and then continuing to create stories in the spirit of the originals. Commercialism seeped into the radio show from the start, as Watson himself, played by various actors, took on the co-host role with a spokesman for G. Washington Tea as a visitor ready to hear a Holmes story. Before a blazing fire with tea always at the brew, Watson reminiscences the great tales between comments on how good the tea is!
For seven years, the great shows of Rathbone and Bruce were made. They began in 1939 and continued through the mid 40's, while the two were also cranking out 16 Hollywood films. The radio stories were action packed, filled with atmosphere, and featured great music by Lou Kosloff, as well as excellent sound effects.
In 1955, NBC re-ran the transcribed BBC series of the original great Conan Doyle stories with the fine actors Sir John Gielgud as Holmes, and Sir Ralph Richardson as Watson, and in "The Final Problem," Orson Welles as Moriarty. This BBC series is held in high regard by all fans of Holmesiana.
These radio dramatizations are collected from a variety of sources, but all have a special man in charge. "My name is Sherlock Holmes. It is my business to know what other people don't know."
2 CDs containing 175 shows
This CD is in the MP3 format



SHERLOCK VOL 1 - 88
330118 The Final Problem
341111 The Hebraic Breastplate
360530 The Devil's Foot
360606 The Armchair Solution
380925 Case of Alice Faulkner
391106 BRUCE PARTINGTON
400311 THE RETIRED COLORS
401006 THE COPPER BEECHES
411207 MYSTERY OF MRS. WARREN'S KEY
430507 ADVENTURE OF THE COOPER BEECHES
430827 THE CARDBOARD BOX
431001 THE SPECKLED BAND
440515 MISSING BLOODSTAINS
450326 BOOK OF TOBIT
450402 MENDICANT SOCIETY
450409 THE VIENNESE STRAN
450423 THE NOTORIOUS CANARY TRAINER
450430 UNFORTUNATE TOBACCONIST
450507 THE PURLOINED RUBY
450514 IN FLANDERS FIELD
450521 THE PARADOL CHAMBER
450903 LIMPING GHOST
450910 COLONEL WARBURTON'S MADNESS
450917 THE OUT OF DATE MURDER
450924 EYES OF MR. LEYTON
451001 THE PROBLEM OF THOR BRIDGE
451008 THE MYSTERY OF THE VANISHING ELEPHANT
451015 MANOR HOUSE CASE
451022 THE GREAT GANDOLFO
451029 MURDER BY MOONLIGHT
451105 THE GUNPOWDER PLOT
451112 THE SPECKLED BAND
451119 THE DOUBLE ZERO
451126 ACCIDENTAL MURDER
451203 MURDER IN THE CASBAH
451210 SCANDAL IN BOHEMIA
451217 THE SECOND GENERATION
451224 NIGHT BEFORE XMAS
451231 CASE OF THE IRON BOX
460107 CASE OF THE MURDERER IN WAX
460114 MURDER BEYOND THE MOUNTAINS
460121 THE TELLTALE PIGEON FEATHERS
460128 DEMON BARBER
460204 INDISCRETION OF MR. EDWARDS
460211 GUILELESS GYPSY
460218 THE CAMBER WELL POISONERS
460225 TERRIFYING CATS
460304 SUBMARINE CAVES
460311 THE ADVENTURE OF THE LIVING DOLL
460318 THE ADVENTURE OF THE BLARNEY STONE
460325 THE GIRL WITH THE GAZELLE
460401 APRIL FOOLS DAY ADVENTURE
460408 THE DISAPPEARING SCIENTISTS
460415 MYSTERY OF THE HEADLESS MONK
460422 THE TINKER VILLE CLUB SCANDAL
460429 WALTZ OF DEATH
460506 MAN WITH THE TWISTED LIP
460513 UNEASY CHAIR
460520 HAUNTING OF SHERLOCK HOLMES
460527 THE SINGULAR AFFAIR OF THE BACONIAN CIPHER
461012 Stuttering Ghost
461019 Adventure Of The Black Angus
461026 Clue Of The Hungry Cat
461102 Original Hamlet
461109 Singular Affair Of The Dying School Boys
461116 Adventure Of The Genuine Guarnarius
461123 Adventure Of The Sally Martin
461130 Death Of Mrs. Abernathy
461207 Case Of The Coptic Compass
461214 Adventures Of The Elusive Diamond
461221 Adventure Of The Grand Old Man
461228 Singular Affair Of The White Cockerel
470104 Darlington Substitution
470111 The Devil's Foot
470127 The Babbling Butler
470203 The Dying Detective
470210 Strange Case Of The Persecuted Millionaire
470217 Adventure Of The Haunted Bagpipe
470224 Adventure Of The Horseless Carriage
470304 Queue For Murder
470310 Affair Of The Ancient Egyptian Curse
470317 The Creeping Man
470324 Adventure Of The Scarlet Worm
470331 Adventures Of Maltree Abbey
470407 Adventure Of The Tolling Bell
470414 Adventures Of The Carpathian Horror
SHERLOCK VOL 2 - 87
470421 The Lion's Mane
470428 Island Of Death
470505 Remarkable Affair Of The Pointless Robbery
470512 Wisteria Lodge
470519 The Harley Street Murders
470526 Adventure Of The Submerged Nobleman
470602 Red Headed League
470609 Murder In The Locked Room
470616 Death In The North Sea
470623 Adventure Of The Speckled Band
470630 The Innocent Murderess
470707 Adventures Of The Iron Maiden
470928 The Dog Who Changed His Mind
471005 The Missing Heiress
471012 Red Headed League
471026 Laughing Lemur
471102 The Copper Beeches
471109 Cadaver In Roman Toga
471116 Well Staged Murder
471123 The Stolen Naval Treaty
471130 Cradle That Rocked Itself
471207 Moriarty And Diamond Jubilee
471214 The Sussex Vampire
471221 Adventure Of Christmas Bride
471228 New Years Eve Off The Sicily Islands
480104 The Mazarin Stone
480111 Sudden Senility
480118 The Lucky Shilling
480125 The Engineer's Thumb
480201 The Avenging Blade
480208 The Sanguinary Spectre
480215 Shoscombe Old Place
480222 The Wooden Claw
480229 King Philip's Golden Salvor
480307 Adventure of The Six Napoleons
480314 Adventure Of The Serpent God
480321 Death is A Golden Arrow
480328 Disappearance Of Lady Francis Carfax
480404 Adventure Of Lady Waverley's Imitation Pearls
480411 Adventure Of The Empty House
480418 The Very Best Butter
480502 The Sinister Crate Of Cabbages
480509 Adventure Of The Illustrious Client
480516 The Ever Blooming Roses
480523 The Accommodating Valise
480530 A Case Of Identity
480606 The Complicated Poisoning At Eel Pie Island
480613 The Bleeding Chandelier
480620 Adventure Of Veiled Lodger
481226 The Blue Carbuncle
490509 The Three Garridebs
491123 Duke of Hollywell
541005 Charles Augustus Milverton
541012 Scandal In Bohemia
541019 The Red Headed League
541102 A Case Of Identity
541109 The Dying Detective
541116 The Second Stain
541123 The Norwood Builder
541207 Case Of The Six Napoleons
541221 The Adventure of the Final Problem
550102 Charles Augustus Milverton
550106 THE MISSING THREE
550109 A Scandal In Bohemia
550116 The Red Headed League
550123 A Case Of Identity
550130 The Adventure Of The Second Stain
550206 Bruce Partington Plans
550213 Adventure Of The Dying Detective
550220 The Norwood Builder
550227 The Solitary Cyclist
550306 The Six Napoleons
550313 The Blue Carbuncle
550320 The Speckled Band
550327 Silver Blaze
550403 The Golden Prince Nez
550417 The Final Problem
550424 The Empty House
550429 THE MAZARIN STONE
550501 The Second Stain
550508 The Dying Detective
551015 The Manor House Case
580406 THE HOUND OF THE BASKERVILLES
590512 MAN WITH THE TWIST
590630 BERYL CORONET
590804 THE BLANCHED SOLD
590811 COPPER BEECHES
590818 NOBLE BACHELOR
590825 SHOSCOMBE
600223 The Stockbroker's Clerk
DRESSED TO KILL