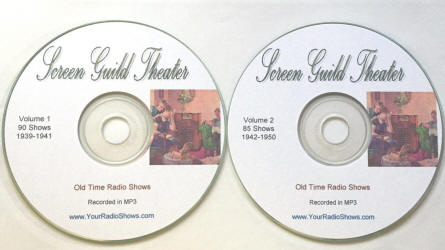 2 CDs -1939-1950 - Sci-Fi - Drama - Mystery

Jack Benny, George Murphy, Joan Crawford, Reginald Gardiner on the premiere of The Screen Guild Theater. The Screen Guild Theater is a radio anthology series broadcast from 1939 until 1952 during the Golden Age of Radio. Leading Hollywood stars performed adaptations of popular motion pictures.


___________________



___________________

Public Domain.
Label exclusively designed for YourRadioShows.
Compilation by YourRadioShows.

This CD is in the MP3 format.
All CD's are mailed in a paper-sleeve, unless otherwise stated.

Proudly Made In The USA

Please remember some shows are 80 years old and in their original state. Please email if you have a question!