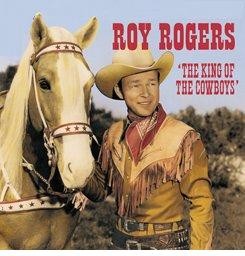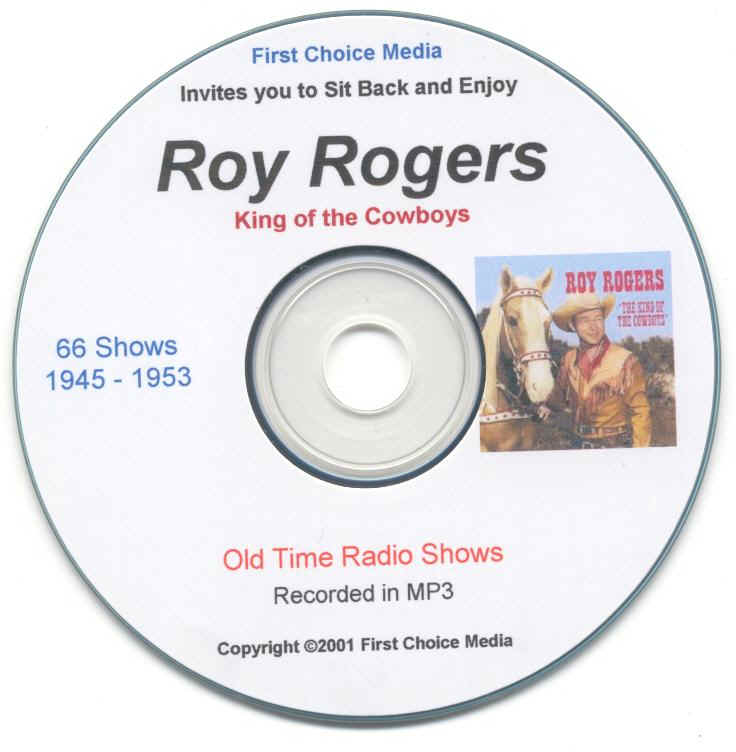 "King of the Cowboys"
Roy Rogers is joined by the "The Sons of the Pioneers" and
other musical guests. These are really fun shows with western stories
and music. Roy is of course joined by Dale Evans and Gabby Hayes, who also followed him into Television.
66 Shows Digitally Recorded in MP3.
This CD contains over 32 hours of air time.
This CD is in the MP3 Format.


450123 Guest Serah Berner
450130 Tom Barnes - Texas Ranger
450508 (25) Porter Hall, Villain
450508 Legend of Pecos Bill
480328 (Aud) The Case of the Mysterious Puppet
480328 Audition bloopers and false starts
490508 Pacos Bill
510304 Wagon Raiders
511012 Ed Bailey's Bad Luck
511019 03 -Night Riders
511026 04 -Old Prospecting Friends
511102 Doug Manson Gang
511109 After Counterfeiters
511116 07 -Lawman's Badge
511123 DeBona Gang
511130 The Map
511207 (10) Eight Convicts
511214 (11) Bribe
511221 012-Prodigal
511228 013-The_De_Bona_Gang
520104 014-Andy_Sales
520111 Cattle Swindle
520118 Owlhoot Trail
520125 Wake of the Storm
520201 Rustlers in Paradise Valley
520208 The Jinxed Ranch
520215 (20) Gold Camp and Winding Creek
520222 (21) Hideaway
520229 (22) Professor Douglas Manson
520307 (23) On the Lookout for John Kennedy
520314 (24) The Lee Burlough Gang
520321 (25) Herb Selby and Counterfeit Money
520328 (26) Salted Desert Property
520404 (27) Old Sid Kenyon Rustlers
520411 (28) Rene Eigan Case
520828 (01) Paradise Valley Sweepstakes
520904 (02) Stolen Diamonds in Hollowed Steer Horn
520911 (03) Smuggled Pearls via Frozen Salmon
520918 (04) Red Danger and Black Gold
520925 (05) Rodeo Yarn
521002 (06) Smuggling Aliens
521009 (07) Fred App Wants to Buy the Ranch
521016 (08) About Indians
521023 (09) Lefty Roberts
521030 (10) Wailing Gold Mine
521106 (11) Range War
521113 (12) Lefty Roberts
521120 (13) Trigger Has Been Stolen
521127 (14) Stealing Cattle by Whirly Bird
521204 (15) The Last Coach
521211 (16) The Boiling Treasure Chest
521218 (17) White Buckskin Jacket
521225 (18) The Night Before the Night Before Christmas
530101 (19) Corky Lewis
530108 (20) The Key
530115 (21) The Gold Mine Spread
530122 (22) The Cash and Carry Rodeo
530129 (23) The Shack
530205 (24) Fireworks
530212 (25) Uranium Claim
530219 (26) Happy Birthday, Sheriff
530226 (27) Checkered Neckerchief
530305 (28) Apache Grazing Land
530312 (29) Domino
530319 (30) Black Gold
530326 (31) Rabies