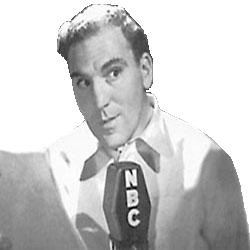 William Bendix

Who can forget Riley on the radio when he first uttered his
classic tag line, "What a revoltin' development this is!"

The Life of Riley featured the comic misadventures of riveter Chester A. Riley, his family and their neighbors. Like many other radio fathers, Riley was a devoted family man with a talent for flying off the handle and a penchant for being worse. Riley is stubborn and opinionated, and knows his way is the right way. His family and neighbors think otherwise. Peg, his capable and charming wife (in spite of it all), was played by Grace Coppin, and then Paula Winslowe. Jack Grimes, Scotty Beckett, Conrad Binyon and Tommy Cook played Junior (Riley's son) through the years, Peggy Conklin, Sharon Douglas and Barbara Eiler was Babs (Riley's daughter). The regulars included John Brown as Gillis, his buddy and Digby "Digger" O'Dell. The versatile John Brown created a comic sensation as the macabre mortician Digger O'Dell who each week unleashed a string of morbid jokes before he had to "be shoveling off" . Shirley Mitchell was Honeybee Gillis and Francis "Dink" Trout played the wacky Waldo Binny.

The show ran from 1943 - 1951.
2 CD set 186 shows - Total playtime over 90 hours.
This CD is in the MP3 format.