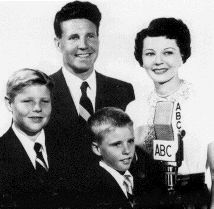 Nelson Family

Ozzie and Harriet Nelson became a household name and one of America's most beloved radio and television families. Ozzie and Harriet would both begin their career in music entertainment. The simple situation comedy of family, home and everyday life would eventually set the stage for future television families.



55 shows on 1 CD 1948-1949 situational comedy.
This CD is in the MP3 format.