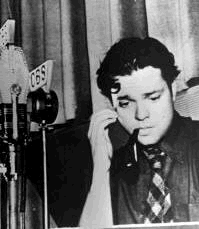 The Mercury Theater On The Air was first heard as a Summer series of nine shows, in Canada on the CBC. It was the first time a theater company brought drama to the radio. It was produced and directed by Orson Welles, who also acted in the main roles, probably one of the most versatile and creative talents in the history of entertainment. The shows featured hour-long dramatizations of classic books.
It was during this time that the best known show from this series, in fact, the best known radio show in radio's history, was broadcast, the radio adaptation of H.G. Wells' "The War of the Worlds". On December 9, 1938, the show changed sponsors and the series changed its name to The Cambell Playhouse.
Complete series of 20 shows from 1938.
This CD is in the MP3 format.