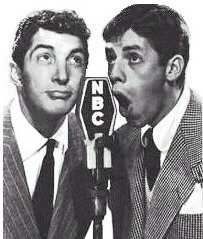 Starring Dean Martin & Jerry Lewis.

Dean Martin was one of the very few who conquered all forms of the entertainment field, including radio. After appearing on dozen's of other people's program, Dean along with his partner Jerry Lewis, went on to host their own Network Radio show on NBC...

The Martin & Lewis Show

They put together a Pilot show with Special Guest Lucille Balland aired it Dec. 22, 1948. NBC quickly picked up the show and ran it weekly. The show featured a different guest star each week Their Show ran for a few years, but because the mediums of television and movies, where the team of Martin and Lewis could be seen as well as heard they moved on. The team fared better where the audiences could see Jerry's facial expressions and Dean's Handsome good looks.

This CD contains 23 hilarious shows.
This CD is in the MP3 format.