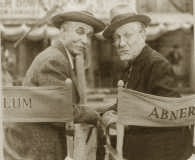 In 1911, these two young and talented comedians from Arkansas began their long standing friendship as boys living only a few blocks from each other. At an early age they started Amos' n Andy impersonations.



Lum and Abner was a last minute "creation" at one of their performances. The Lum and Abner Show debuted on NBC radio July 27, 1931 in Chicago. Their first sponsor was The Quaker Oats Company. For a short time NBC and Quaker Oats were their sponsor. For the next 25 years Lum and Abner moved around to different stations and having many different sponsors.



215 shows from 1935-1939.
This CD is in the MP3 format.