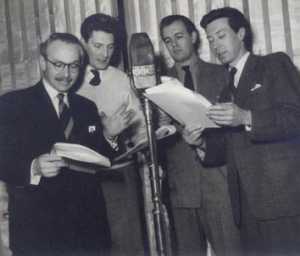 David Kossoff, Andrew Faulds, Don Sharp and Guy Kingsley Poynter
Journey into Space is an outstanding Sci Fi Series from the BBC based on the stories of Charles Chilton. The adventures of Jet Morgan and his crew were presented in 3 stories, following the Serial format. The first story was Operation Luna, presented in 12 shows, following Jet on his travels to the moon. The next set of shows (20) had Jet Morgan leading the way to Mars in "The Red Planet." The final series was again heard in 20 shows called "The World in Peril." We have also included the final chapter of the tale which is 'The Return from Mars" were Jet Morgan and the crew return to Earth after being missing in action and presumed dead after 30 years.
The main characters were Captain 'Jet' Morgan (Andrew Faulds), Lemmy (David Kossoff) and Sir William Morgan (Wilfred Walter). Various other parts were played by Guy Kingsley Poynter, Bruce Beeby, Don Sharp, Errol Mackinnon and Mark Baker.
55 Shows on 1 CD. This CD is in the MP3 Format.
Journey Into Space (1) Operation Luna 01
Journey Into Space (1) Operation Luna 02
Journey Into Space (1) Operation Luna 03
Journey Into Space (1) Operation Luna 04
Journey Into Space (1) Operation Luna 05
Journey Into Space (1) Operation Luna 06
Journey Into Space (1) Operation Luna 07
Journey Into Space (1) Operation Luna 08
Journey Into Space (1) Operation Luna 09
Journey Into Space (1) Operation Luna 10
Journey Into Space (1) Operation Luna 11
Journey Into Space (1) Operation Luna 12
Journey Into Space (2) 54-10-06 The Red Planet
Journey Into Space (2) 54-10-13 The Red Planet
Journey Into Space (2) 54-10-20 The Red Planet
Journey Into Space (2) 54-10-27 The Red Planet
Journey Into Space (2) 54-11-03 The Red Planet
Journey Into Space (2) 54-11-10 The Red Planet
Journey Into Space (2) 54-11-17 The Red Planet
Journey Into Space (2) 54-11-24 The Red Planet
Journey Into Space (2) 54-12-01 The Red Planet
Journey Into Space (2) 54-12-08 The Red Planet
Journey Into Space (2) 54-12-15 The Red Planet
Journey Into Space (2) 54-12-22 The Red Planet
Journey Into Space (2) 54-12-29 The Red Planet
Journey Into Space (2) 55-01-05 The Red Planet
Journey Into Space (2) 55-01-12 The Red Planet
Journey Into Space (2) 55-01-19 The Red Planet
Journey Into Space (2) 55-01-26 The Red Planet
Journey Into Space (2) 55-02-02 The Red Planet
Journey Into Space (2) 55-02-09 The Red Planet
Journey Into Space (2) 55-02-16 The Red Planet
Journey Into Space (3) World In Peril 01
Journey Into Space (3) World In Peril 02
Journey Into Space (3) World In Peril 03
Journey Into Space (3) World In Peril 04
Journey Into Space (3) World In Peril 05
Journey Into Space (3) World In Peril 06
Journey Into Space (3) World In Peril 07
Journey Into Space (3) World In Peril 08
Journey Into Space (3) World In Peril 09
Journey Into Space (3) World In Peril 10
Journey Into Space (3) World In Peril 11
Journey Into Space (3) World In Peril 12
Journey Into Space (3) World In Peril 13
Journey Into Space (3) World In Peril 14
Journey Into Space (3) World In Peril 15
Journey Into Space (3) World In Peril 16
Journey Into Space (3) World In Peril 17
Journey Into Space (3) World In Peril 18
Journey Into Space (3) World In Peril 19
Journey Into Space (3) World In Peril 20
Journey Into Space (4) THE RETURN FROM MARS 1
Journey Into Space (4) THE RETURN FROM MARS 2
Journey Into Space Again 99-07-20 Cast Interview