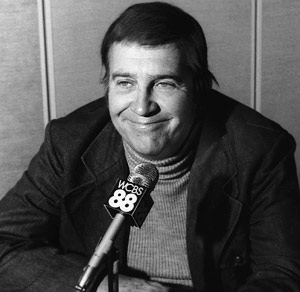 Radio Legend Jean Shepherd
The man behind the holiday favorite 'A Christmas Story'
It's late night as the chuckling, conspiratorial voice of a magical monologist begins to speak. "Friends," he says, " It's Friday night, and Friday night is a night for rebirth... it's a night for renewed hope. It's a night for, once again, falling into that same old trap that you always fall into, that it's gonna happen this weekend, right? Well, at least we can always approach the Emerald City with a degree of objectivity, knowing that we've been that way before. Now — wouldya like to hear the second chorus of 'Margie'?"

Shepherd broadcast on WOR from 1956 to 1977, he offered mock commentary on cultural trends, social behavior and the favorite pastimes of "night people" (a term he's credited with coining), "slobs" (a term Shepherd used to mean "common folk"), and "fatheads" (essentially an insult meaning those who don't get it, but used in a positive sense when used to greet his listeners: "Excelsior, you fatheads!").

Jean Shepherd, the beloved humorist who died in 1999 but lives on through these radio shows and the thoroughly American saga of a kid's Yuletide obsession,

"A Christmas Story,"

which Shepherd wrote.



730 Shows from 1955 - 1977.
12 CD's ($24.99) or 2 DVD's ($16.99).
This CD is in the MP3 format.

To order the 12 CD set for $24.99, click below.




To order the 2 DVD set for $16.99, click below.