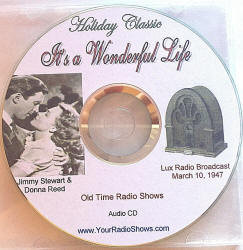 Lux Live Radio Broadcast - Holiday Classic
1 CD 60 Minute Audio - 1947



Starring Jimmy Stewart & Donna Reed



This dramatization will take you back to an early time. The charming Jimmy Stewart is fantastic in this radio broadcast.



This story will become one of your all time favorites. June Allison is funny, witty and charming in her live performance! Add this family classic holiday story to your collection.
_________________________




_________________________

Public Domain.
Label exclusively designed for YourRadioShows.
Compilation by YourRadioShows.
This collection is in a sealed case.
These CDs are in the AUDIO format.
Proudly Made In The USA
Please remember some shows are 80 years old and in their original state. Please email if you have a question!