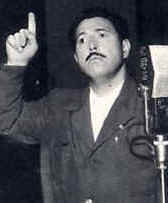 Harold Peary


Honest Harold premiered in September of 1950 and ran for only one season. The show created by Harold Peary after abandoning his long running character of Gildersleeve on Fibber McGee and Molly just didn't make it very far. Harold Peary was a veteran of Radio Starting his career at age 13 and was a popular actor through the 1930s. Peary played "Honest Harold Hemp a popular radio entertainer Who lived with his mother and his nephew Marvin. The show opened with Peary doing his famous "Dirty Laugh" from Gildersleeve.

38 show from 1950 – 51.
The complete series.
This CD is in the MP3 format.