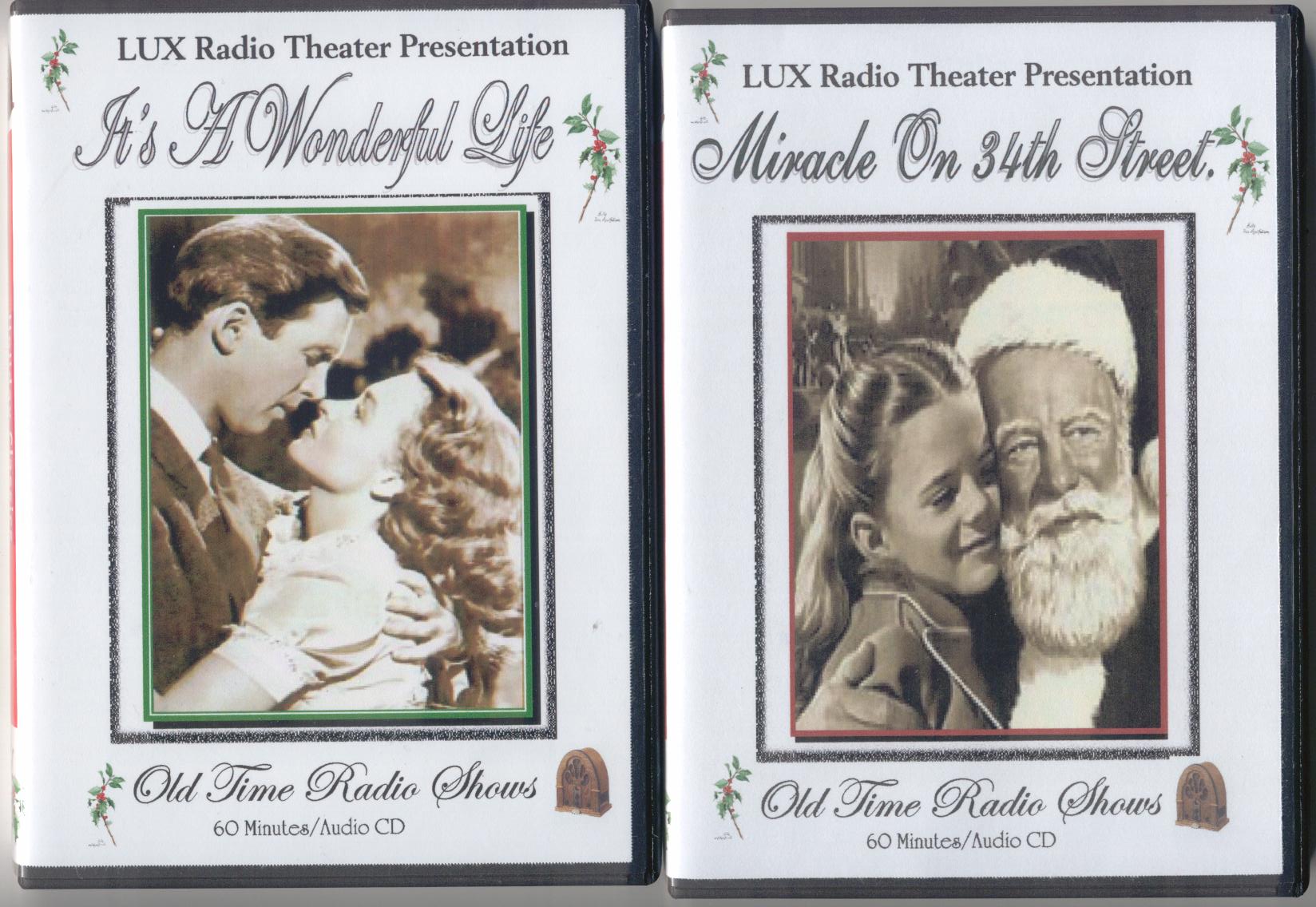 Have an old fashioned Christmas with this wonderful Holiday Old Time Radio Audio Collection. Whether you enjoy comedy or drama you and your entire family will simply enjoy this beautiful 5-box audio collection.

Each show is in its own individual box case.

Make this collection apart of you family traditions during the holiday season. Old Time Radio Show audio classics that you and your family will treasure.

Wonderful Christmas Gift!
5 Audio CDs
60 Minutes Each
Individual Box Case
5 Hours Of Entertainment

These are audio CDs and will play on any standard players.




It's A Wonderful
Starring Jimmy Stewart
Original Lux Theatre broadcast live…1947…60 Minutes
This dramatization will take you back to an early time. The charming Jimmy Stewart is fantastic in this radio broadcast.



Miracle On 34th St.
Starring Edmund Gwenn and Maureen O'Hara
Original Lux Theatre broadcast live…1948…60 Minutes
This dramatization will warm your hearts and bring back childhood memories of Christmas.

Little Women
Starring June Allison, Peter Lawford, Janet Leigh and Margaret O'Brien
Original Lux Theatre broadcast live…1950…60 Minutes
This story will become one of your all time favorites.


June Allison is funny, witty and charming in her live performance!



Father Knows Best
Starring Robert Young. 2 half-hour live radio shows.
"Christmas Show"

&

"New Years Sitter"


Christmas with the Andersons! 1950…60 Minutes

Radio Playhouse


Enjoy stories from two of your favorite authors. "Three Men"

by Willis Cooper, 1948 radio presentation and

"Twas The Night Before Christmas"

by Paul Gallico, 1949 radio presentation. These Radio Show Broadcasts will entertain you while you listen and enjoy these adaptations from celebrated writers.

Remember these are NOT DVD's or MP3s!
These are Audio CDs and will play on your regular CD players.