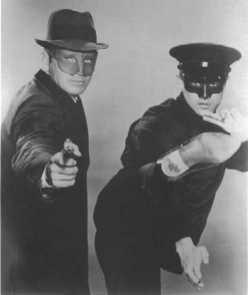 "Flight of the Bumblebee" signaled another episode of the Green Hornet.

This show was popular with kids of all ages. Created by The Lone Ranger team of producer George Trendle and director James Jewell, the show has some of the same pace as the western Masked Man. Movie serials in '40 made the Green Hornet all the more popular on radio. Al Hodge played Britt from '36-'43, with Raymond Hayashi creating Kato. The Sentinal staff reporters worked on the facts along with Reid who actually owns the Daily Sentinel. Lenore 'Casey' Case was played by Lenore Allman.

A young Mike Wallace (of 60 Minutes fame) was one of the young announcers!

91 shows from 1936 -1952.

This CD is in the MP3 format.