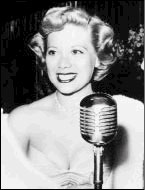 Listen as Dinah Shore sings and entertains you. Americans voted her as their favorite female Radio artists. She delighted the hearts of all Americans and Military with her warmth and her charm. Join her on Old Time Radio Shows such as, Bristol Myers, Birds Eye and special Command Performance appearances. The talented Dinah Shoreentertains you with her Special Guest Groucho Marx, Bing Crosby, Jack Benny and others!
57 shows from 1942 - 1950.
This CD is in the MP3 format.