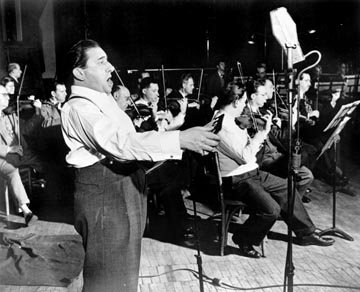 Jan Peerce
A listener survey in 1940 conducted by a Chicago Radio station
reveled that there was a large group of people who were interested

in hearing opera music. Original works were carefully translated

into English by George Mead and others. Soloists came from the

Metropolitan Opera, the San Carlo Opera Company and the Chicago

Civic Opera Company. Sometimes as many as a 100 performers were

assembled on stage for a single show.
The goal of creating a 60 minute broadcast without losing any of

the essential plot and music was achieved very nicely.
19 shows from 1940 - 1950.
This CD is in the MP3 format.




Episodes
400516 Student Prince
401012 Chocolate Soldier
470531 Great Waltz
490730 Music in the Air
490806 None But the Lonely Heart
490813 Two Grenadiers
491022 The Mikado
491029 The Pink Lady
491105 The Chocolate Soldier
491112 Madame Butterfly
491119 The Gondoliers
491126 The Vagabond King
491203 The Countess Maritza
491210 Mignon
491217 Hansel and Gretel
491231 The Merry Widow
500304 No, No, Nanette
500429 Bittersweet
500506 The Gypsy Princess