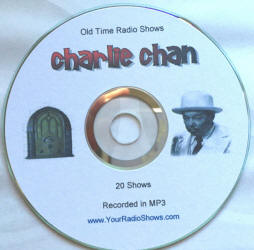 20 old time radio shows on 1CD

.


PLUS... Bonus 20 famous Charlie Chan short quotes

Warner Oland as Charlie Chan... "Charlie Chan is a fictional character created by Earl Derr Biggers. Biggers loosely based Chan on Honolulu, Hawaii detective Chang Apana. Chan is a detective for the Honolulu police, though many stories feature Chan traveling the world as he investigates mysteries and solves crimes."

You wont want to miss out on these classic radio shows!
___________________




___________________

SHOW LIST
01 Charlie Chan - Marching Ants, Charlie Ambushed
02 Charlie Chan - The Murder of Deacon Jessup
03 -- Charlie Chan - Chan Reports to Commissioner
Charlie Chan -'36-10-08 Baffling Murder Mystery 1of4
Charlie Chan -'36-10-15 Baffling Murder Mystery 2of4
Charlie Chan -'36-10-22 Baffling Murder Mystery 3of4
Charlie Chan - 36-10-29 Baffling Murder Mystery 4of4
Charlie Chan - Eye Of Budda 8
Charlie Chan - Fiery Santa Claus
Charlie Chan Charlies Daughter Is Kidnapped
Charlie Chan in Radio City
Charlie Chan Man Who Moved Mountains
Charlie Chan Murder in Cabin 15
Charlie Chan Murder of Colonel Willow


Charlie Chan The Curious Ride Of The Sea Witch
Charlie Chan The Escaped Musician
Charlie Chan The Frightened Sharaf
Charlie Chan The Man Who Murdered Santa Claus
Charlie Chan The Romantic Engineer
Charlie Chan The Telltale Hands
___________________

Public Domain.
Label exclusively designed for YourRadioShows.
Compilation by YourRadioShows.

This CD is in the MP3 format.
All CD's are mailed in a paper-sleeve, unless otherwise stated.

Proudly Made In The USA

Please remember some shows are 80 years old and in their original state. Please email if you have a question!