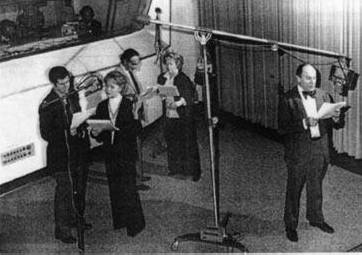 L-R: Tony Roberts, Lois Nettleton, Norman Rose, Torni Keane and E.G. Marshall in CBS studio

.



There were 1399 original shows aired over 9 years. Some shows were rebroadcast in 1998 and hosted by Himan Brown the producer of the original series.

The CBS Radio Mystery Theater was inducted into the Radio Hall of Fame in 1990.



If Interested in acquiring this huge 27 CD or 4 DVDs collection of all 1399 original shows, please use links below. Free S&H.


Complete Collection in MP3 on 27 CD's

27 CD's

69.99

Complete Collection in MP3 on 4 DVD's

4 DVD's

39.99

Or you can order complete year sets:

1974 Complete Set 0n 4 MP3 CD's

4 CD's

18.00

1975 Complete Set 0n 4 MP3 CD's

4 CD's

18.00

1976 Complete Set 0n 3 MP3 CD's

3 CD's

15.00

1977 Complete Set 0n 3 MP3 CD's

3 CD's

15.00

1978 Complete Set 0n 3 MP3 CD's

3 CD's

15.00

1979 Complete Set 0n 2 MP3 CD's

2 CD's

13.00

1980 Complete Set 0n 2 MP3 CD's

2 CD's

13.00

1981 Complete Set 0n 3 MP3 CD's

3 CD's

15.00

1982 Complete Set 0n 3 MP3 CD's

3 CD's

15.00