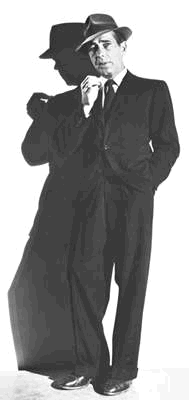 Humphrey Bogart had been on some anthology series such as Lux Radio Theater but generally disliked the idea of radio. After the tape recorder was developed by the Nazis during the thirties, audio tape technology came to this country and changed the face of radio. Now episodes, whole or in part, could be redone until director and actors were satisfied. Bogie and his wife, Lauren Bacall, could now make a radio series and then be out of the country, if necessary, when it was broadcast, which is exactly what happened. Bogie and Bacall made this one-year series and then left for Africa where Bogie made a little movie called "African Queen".
Shannon is the owner and proprietor of a dubious Havana hotel, and Bacall is Sailor Duval, his sulty, wisecracking sidekick, whose exact status is questionable. Jester Hairston plays the calypso-singing aide-de-camp King Moses, whose witty rhymes comment on the plot as it whips along. Shannon's hotel attracts cutthroats, gamblers, and other denizens of the deep to its nautical watering hole, so Shannon is ready to do what it takes to keep the peace, or get a piece of the action.
For Bogie fans, this is a must-have CD.
26 exciting shows
This CD is in the MP3 format.