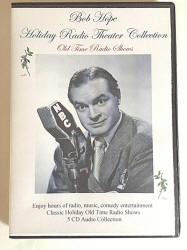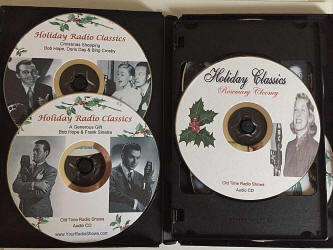 5 audio CDs in this beautiful, sealed case collection. Each CD is exclusively designed for this collection. Live, old time radio shows from 1950s. Drama.

This feel-good original holiday collection from Radio Show Broadcast...will certainly warm your heart and bring back childhood memories of Christmas. These timeless radio shows will surely become a holiday tradition for years to come. Remembering the all "American family" in the 50's, the Music, Comedy, Laughs and a salute to our Veterans! There is know-one like Bob Hope!




_________________________
EPISODES
A Generous Gift
Bob Hope Show
Bob Hope & Frank Sinatra
Christmas Shopping
Bob Hope Show
Bob Hope, Doris Day & Bing Crosby
Bing Crosby's Christmas Show
Enjoy Bing and the Crosby family
Enjoy songs like
"Silent Night"
"Oh Come All Ye Faithful" and more!
This is a treasured classic
Bob Hope's Christmas Show
Long Beach Veterans Hospital
Bob Hope is truly a friend to the GI...join him and other guest in
comedy and song!
Rosemary Clooney
Sharing memories and traditional holiday songs of yesteryear



_________________________


Public Domain.
Label exclusively designed for YourRadioShows.
Compilation by YourRadioShows.
This collection is in a sealed case.
These CDs are in the AUDIO format.
Proudly Made In The USA
Please remember some shows are 80 years old and in their original state. Please email if you have a question!