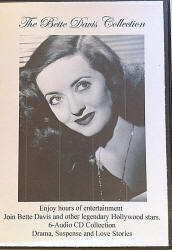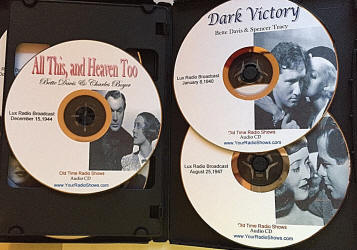 6 audio CDs in this beautiful, sealed case collection. Each CD is exclusively designed for this collection. Live, old time radio shows from 1938-51. Drama.

Bette Davis was an American actress of film, television and theater. Regarded as one of the greatest actresses in Hollywood history, she was noted for her willingness to play unsympathetic characters and was reputed for her performances in a range of film genres, from contemporary crime, melodramas to historical and period films and occasional comedies, although her greatest successes were her roles in romantic dramas. *source courtesy of Wikipedia

You wont want to miss out on these classic original live Lux radio show broadcasts with a cast of Hollywood stars.
_________________________





_________________________
EPISODES
All About Eve
Starring Bette Davis
October 1,1951
Dark Victory
Starring Bette Davis and Spencer Tracy
January 8,1940
Forsaking All Others
Starring Bette Davis
February 2,1938
The Letter
Starring Bette Davis and Herbert Marshall
April 21,1941
All This, And Heaven Too
Starring Bette Davis and Charles Boyer
December 15,1944
A Stolen Life
Starring Bette Davis and Glenn Ford
August 25,1947
You will enjoy these live radio shows adapted from your favorite motion pictures...with Lux Commercials!
_________________________

Public Domain.
Label exclusively designed for YourRadioShows.
Compilation by YourRadioShows.
This collection is in a sealed case.
These CDs are in the AUDIO format.
Proudly Made In The USA
Please remember some shows are 80 years old and in their original state. Please email if you have a question!