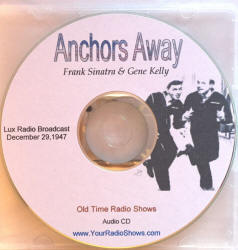 1 audio CD - 1947 - Comedy/Music.

Radio show live broadcasts. Live Lux Radio Theater at its best!

Starring Frank Sinatra & Gene Kelly

Whether you enjoy westerns, suspense, comedy, music or drama you and your entire family will simply enjoy these old time radio show audio classic complete with commercials!



"Joe (Gene Kelly) and Clarence (Frank Sinatra) are two young Navy sailors on leave in glitzy Los Angeles. The two men at first plan to use their layover as an opportunity to relax, but they soon find themselves in a complicated web of comic secrets. When the two buddies find a runaway boy and return him to his fame-hungry Aunt Susan (Kathryn Grayson), both men find themselves falling for the wannabe singer, setting off a series of misadventures that unfold in comedy and song."

Courtesy of IMDB



These Old Time Radio Show live broadcasts will entertain you for hours! Make these radio show collections apart of your families traditions!




_________________________
Public Domain.
Label exclusively designed for YourRadioShows.
Compilation by YourRadioShows.
This collection is in a sealed case.
These CDs are in the AUDIO format.
Proudly Made In The USA
Please remember some shows are 80 years old and in their original state. Please email if you have a question!