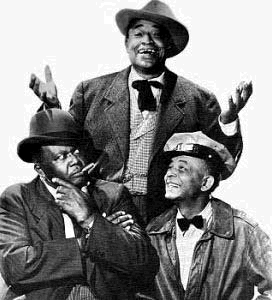 "The most-listened-to show in the history of radio."

Starring Freeman Gosden and Charles Correll.

Amos 'N Andy ran the Fresh-Air Taxi company and belonged to the Mystic Knights Of The Sea Lodge, of which their scheming pal George Stevens was "The Kingfish." The Amos and Andy show is considered by many to be the funniest shows from radio history. If you're too young to remember the hilarious, lovable characters, this will be your introduction to good, old-fashioned comedy at its best. If you were around then, sit back and relive the fun with the KingFish and his wife Sapphire, Amos' long-suffering wife Ruby, Reverend Johnson and Shorty. They had several sponsors, the most-remembered seems to be Rinso laundry detergent and Rexall.

Freeman Gosden and Charles Correll were partners in a minstrel show for some years as Sam and Henry. In 1928 their show appeared on the NBC network as Amos and Andy. The extremely popular show was broadcast until 11/25/60.

1 CD Containing. 109 Shows
This CD is in the MP3 format.